Our Food Hub connects local family farms to Fresh Feast CSA families and wholesale customers.
Our Fresh Feast CSA is a unique Big Island offering. Adaptations grows its own certified organic crops on two farms. Community Supported Agriculture is an exciting alternative food distribution system. By supporting our network of family farms directly, you are securing the agricultural integrity of our island while lowering your carbon footprint and in exchange you are receiving nutritious, locally grown produce.
 The philosophy of a CSA is more of a relationship than a simple convenience or a give and take of produce for cash; it is based on mutual respect between the customer and the farmers. We source island grown crops from local growers on the island.  In fact, if you have extra fruit or veggies in your garden, consider selling to us so we can share your food with other CSA members. We can pay you by check or add the value to your Fresh Feast account balance.
Under the CSA model, members pay in advance for the food they receive, reflecting the risk that farmers take to plant, tend, and harvest crops. The advance payments helps the farmers tremendously by stabilizing their financial situation and allowing them to concentrate on growing their crops instead of marketing. By purchasing a subscription, you are becoming an essential part of the local food system! You are helping Hawaii taste great!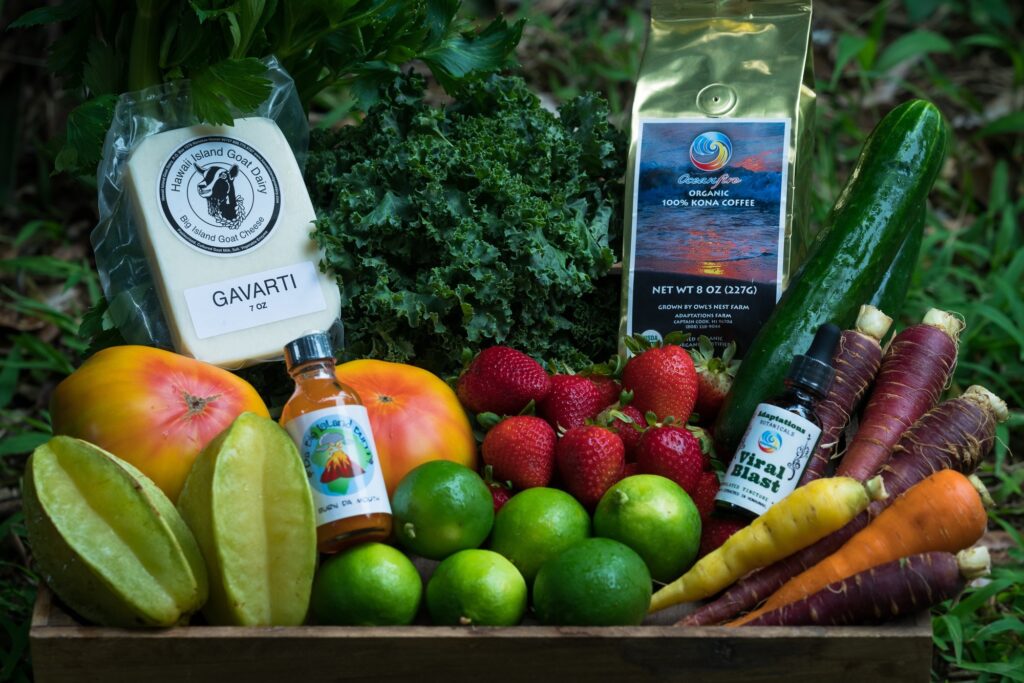 Pick and choose what you'd like with our Custom Made Share! Build your own box of local produce and products on our online farmers market.
$25 minimum, but there is no maximum!
We deliver CSA shares island wide with convenient pick up locations in Kealakekua, Kailua-Kona, Kohala Coast, Waikoloa, Waimea, Hilo, Ocean View, and Milolii.
Choose your pick-up location, keep in mind the day and available hours for pick-up varies by site.
Select your delivery schedule for either weekly or bi-weekly Tuesday, Wednesday, or Friday deliveries.
Consider additional mushroom, egg, or pizza dough subscriptions. Subscriptions allow you to reserve specialty items on a weekly or bi-weekly basis. You can change your subscriptions at any time by editing your account information.
Decide on a payment plan. You may choose between automatically recurring payments and one time payments by electronic check (preferred), credit/debit card, SNAP/EBT, cash, or check. For SNAP/EBT and cash payments, you can choose any pick up site location however you must pay at our Kealakekua headquarters. If you choose our Kealakekua location as your pick up site you may pay when you pick up your box, however, for all other locations you must pay with SNAP/EBT or cash at our headquarters in advance.
Add your contact information so we can let you know when your box is ready.
Pay and begin shopping! If you do not edit you cart, you will receive a "default box" of pre-selected array of seasonally abundant produce.
Add [email protected] to your email contacts so our emails don't get lost in your spam folder!
Set an alarm on your phone or mark your calendar to remind yourself to edit your Farmigo cart!
If a new member joins at your suggestion, you will be awarded $10 in Farmigo credits. Referral credits can be used towards web-store purchases, so make sure your friends mention your name when they sign up!
When you complete the payment process you agree to our terms and policies. Review our policies by clicking the button below!
Questions? Check our FAQ first!